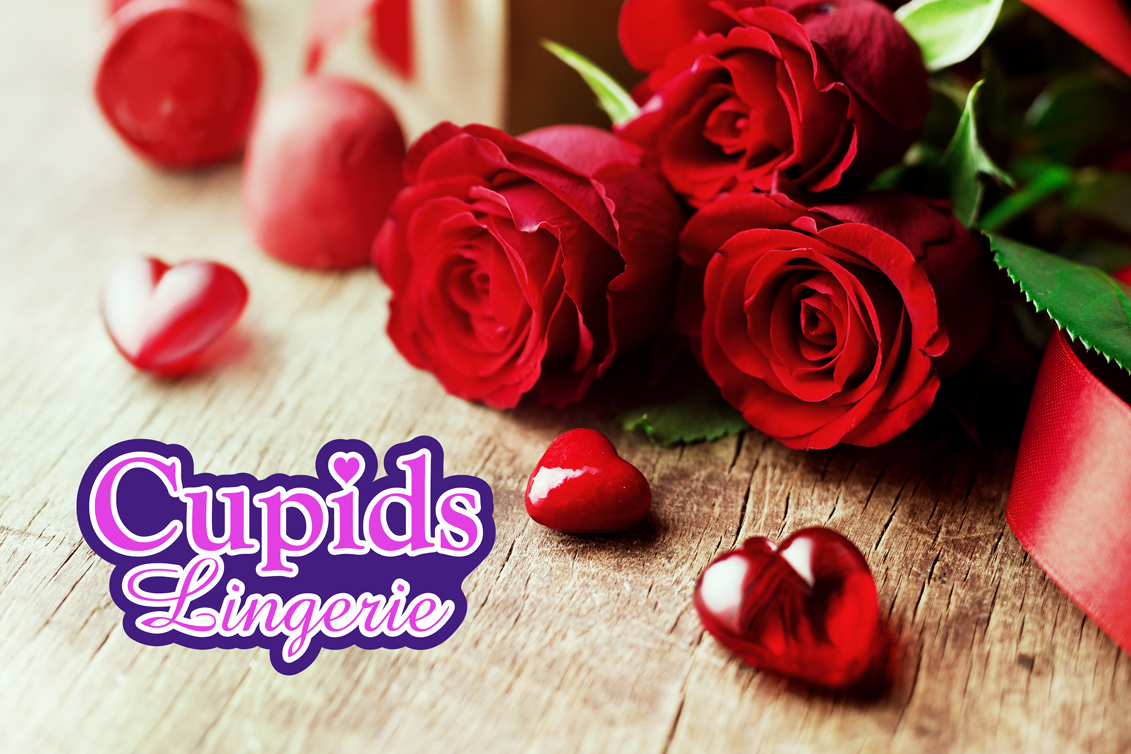 Valentine's Day is the holiday dedicated to love. It is one of our favorite holidays here at Cupids Lingerie. This day gives you the perfect opportunity to let your significant other fall deeper in love with you. Giving him or her the right gift is a great way to make this holiday one to remember. Here are just a few gift ideas that Cupids has to offer.
Spice up this Valentine's Day with some of our sexy lingerie! There are many different styles and colors to choose from depending on your taste, try something from our Fantasies Lingerie Line. Babydolls are perfect if you are trying to cover your midsection but you still want to show off your beautiful curves. Costumes are great if you want to role-play, maybe you want to be a French maid or even a naughty police officer. Bra and Panties are simple and more traditional but just as sexy. This is just a handful of the vast amount of types of lingerie out there. In the end pick what you like best because your loved one will appreciate your efforts to please them.
Who doesn't want to give their partner extra pleasure under the sheets? Here are some adult toys ideas made to do just that. A Vibrating Cockring is a simple way for men to provide their partner with extra pleasure during intercourse. Vibrating cock rings are made out of a stretchy material that include a vibrating bullet on one or more sides and are worn at the base of the penis. During sex, not only does the vibrating bullet provide stimulation to the woman's clitoris but the ring also provides extra girth for him.
Another awesome couple's novelty is the We-Vibe Sync, a truly innovative toy that has been around for a decade. The We-Vibe Sync is a new and improved variation of the original We-Vibe design and can be used for long distant relationships, during foreplay, or even during an intimate encounter. This silicone C- shaped toy is placed with one end inside the vagina to stimulate the G-spot and the other end on the outside for clitoral vibrations. This novelty is USB rechargeable and has a wireless remote that works up to 10 feet away. It has ten different modes including pulse, echo, and crest. It also offers the We-Connect app on your smart phone so you can link the device and let your partner give you pleasure from hundreds of miles away. Sex toys made for couples are a great way to keep things interesting!
Certain gels and creams can be used to make your sexual experience even better. On Arousal Gel is a female stimulation gel used by applying just a drop onto the clitoris to increase the sensitivity to the area and to provide exciting sensations. Another product, 18 Again – Vaginal Shrink Cream, is made to provide a tightening sensation during sex for both partners. For the guys, a fun and unique item is Stallion Delay Cream. Simply rub a small amount around the head of the penis to allow for an extended intercourse experience. These are just a few gels and creams that can be used to enhance that special intimate moment.
What's more romantic than taking a nice warm bubble bath with someone you love? Try taking a bath in the dark with him or her using Sexy Suds Glow in the Dark Bubble Bath. Have an out of this world experience being covered with illuminating bubbles while the lights are turned off. After bath time you can please your special someone with a nice body massage. Try our Earthly Body Massage Oil. It's made from Hemp seed and other natural oils to keep your skin silky smooth and sexy. One of our favorite fragrances is called "Skinny Dip". When you get done with the massage try lighting the Kama Sutra Love Lights Candle Set placing it on your nightstand to keep that perfect amount of romantic lighting.
Final Thoughts
These are just some gift ideas that can help make this special day even better. If you don't know what to get your significant other for Valentine's Day take him or her shopping with you at any of our six Arkansas locations or shop us online at ShopCupids.com. Make this holiday one that will never be forgotten.